Cedar City Half Marathon 2017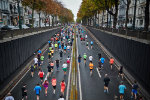 Cedar City Half Marathon is one of the most spectacular closed-canyon runs anywhere. Registration is now open for this year's event to be held on Saturday, Sept. 9, 2017. Runners will be shuttled to the base of Cedar Breaks National Monument at Woods Ranch in Cedar Canyon. The 7 am start time and closed canyon allows runners to hear the sounds of Coal Creek and Aspen leaves quaking as they wind through eons of geologic formations to the mouth of Cedar Canyon. There sandstone pyramids mark the intersection of the Great Basin with the Great Rocky Mountain formations. Runners will transition from Highway 14 to the Coal Creek Trail System running along the creek and going under quaint road bridges to the finish line at Bicentennial Soccer Fields.
The
Cedar City Half
is a perfect high-altitude trainer for those preparing for full marathons held a few weeks later, including the St. George marathon.
This 13.1 mile closed-canyon course is one of the nation's fastest as runners decend from 8,408 feet in elevation (Lat-Long: 37.594145 N, -112.912180 W). to 5,600 feet at the finish line in Cedar City near the Bicentennial Soccer Fields.
Bus loading will be at Bicentennial Park, next to the finish line by the soccer fields, and will take the runners up Cedar Canyon to the Start Line near Woods Ranch.
Clothing Bag Pickup will be near the finish line by the refreshments and award stand areas.
Coal Creek Trail Run: is a new addition to the Cedar City Half Marathon race day. We have formally retired the 5K and have introduced the Coal Creek Trail Run (about 3 miles). This race will start on Coal Creek Trail at the mouth of Cedar Canyon and end at the half marathon's finish line at Bicentennial Soccer Complex. Adults and children of all ages (including babies) are invited to attend this run. (Strollers will be allowed).
Start:

September 09, 2017

End:

September 09, 2017

Where:

Cedar Breaks National Monument, Highway 148, Cedar City, Utah, United States, 84720

Phone:

(435)-586-2770

Event Type:

Utah

Ticket Price:

25 - 60.00