Cedar Livestock Heritage Festival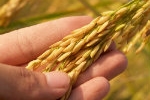 Iron County has rich and inspiring history which is worth celebrating. Fall is a very special time of the year, for it means the harvesting of crops and the trailing of livestock from the high mountain ranges to the desert for winter, which is a yearly tradition. May we never forget the people, animals and resources that built such a great community and legacy.
We are very pleased and proud that once again they will parade down Main Street and be celebrated for all they represent. The first sheep were herded up from town to Cedar Mountain in 1870, and every year since then they have made the trek from the mountain to the valley making their way through Cedar City. Join us for the great celebration!
Events this year include the Draft Horse show & pull, the "Power Horse" tractor driving demo, vintage car show, heritage crafts and activities, sheep wagon show, Dutch Oven cooking contest, vendors and education booths, Cowboy poetry and music, a dirt dance, a quilt show, art contest, antique tractor show and pull and of course our wonderful Sheep parade.
Start:

October 26, 2017

End:

October 29, 2017

Where:

Cedar City, main street, Cedar City, Utah, United States, 84720

Phone:

N/A

Event Type:

Utah

Ticket Price:

N/A

Website:

http://www.cedarlivestockfest.com/