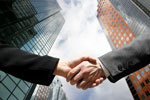 The New Era of Responsible Digital Investing
How Blockchain and Cryptocurrencies are changing investing forever.
Part of investors' and the general public's reservations around cryptocurrencies and blockchain stem from the fact that they don't really understand it. So let's demystify this new-fangled, high-tech coinage, Shall we?
For investors, blockchain technology could affect the post-trade value chain, eliminating clearing, settlement and counter-party risk.
JOIN US as we bring together a diverse group representing the brightest minds, game changers, creators, regulators and insiders along with business professionals and leading investors / VC's to help you learn the How, Why and Where to invest and educate yourself in the most disruptive technology since the internet, and understand why it's making a huge positive impact across the globe.
Start:

April 30, 2018

End:

May 01, 2018

Where:

Los Angeles Convention Center, 1201 South Figueroa Street, Los Angeles, California, United States, 90015

Phone:

N/A

Event Type:

Arts & Theater, Southern California

Ticket Price:

99 - 5000.00

Website:

https://www.crowdinvestsummit.com/