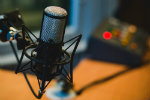 We welcome you to join us for the Podcast Pros conference's inaugural year at the L.A. Podcast Festival. For years we've had industry panels as part of the fest, but this year we realized that the panels were just the seed of a much bigger idea. To us, the podcasting community includes podcast fans, podcasters, networks, brands who support podcasts, platforms, agencies, managers and everyone else. There's no boundary between fans and industry because we realize how many fans aspire to get involved. Our community helped us start our festival on Kickstarter, and we believe that bringing everyone together at the L.A. Podcast Festival and Podcast Pros will create some incredible connections and magic memories.
Podcast Pros aims to provide an honest entertaining forum for aspiring, beginner and experienced podcasters to socialize, share knowledge, and refine their creativity and businesses. Given that we live in Los Angeles, we'll key on relationships within other parts of the entertainment industry (Hollywood) and building connections with people and businesses engaged in podcasting (as well as the podcast curious!).
Special guests from across the industry will share their experience and expertise including executives from networks, fundraising platforms, agencies, advertisers and of course podcasters themselves. We are keeping a sharp focus on the quality of our programming and we'll share the details soon.
The best part? All of this is included in the price of your festival pass with no additional charge. Purchase your ticket here.
We are also thrilled to share that we will feature live podcasts at Podcast Pros, these select business focused podcasts will address topics near and dear to our hearts. No brainer right? Live business podcasts at the podcast conference! It took us a minute but we got there eventually!
Last but not least and please share: as part of our commitment to increasing access to podcasting opportunities to candidates without the means to purchase a ticket, we are offering a limited number of free Podcast Pros Scholarships. Send us an email about what you are doing, why you're interested in attending, and why you deserve a scholarship to info@lapodfest.com for consideration. In addition to free access to the conference and festival, each recipient will receive a one-on-one mentorship session with one of the festival's core team.
Confirmed speakers:
Norm Pattiz - Founder & Executive Chairman, Podcast One
Karen Kilgariff, My Favorite Murder
Hernan Lopez - CEO, Wondery
Tom Webster - Vice President, Strategy and Marketing, Edison Research
Julian Petty - Partner, Nixon Peabody
Taylor Moore - Head of Comedy, Kickstarter
Jordan Cope - Creator Relations Lead, Patreon
Rob Walch - VP Podcaster Relations, Libsyn
Jason Smith - CEO, Feral Audio
Sim Sarna - Producer & Co-host, Anna Faris is Unqualified
Jackie Kashian - The Dork Forest
Allyson Marino - Podcast Thought Leader
Michael Bertolina - President, All Things Comedy
Josh Lindgren - Agent, The Billions Corporation
Cash Levy - Cashing In
Ben Adair - CEO & Executive Producer, BA Creative
Live Podcasts: Rebel Radio, Daily Tech News, and Innovation Crush
Start:

October 06, 2017

End:

October 08, 2017

Where:

Millennium Biltmore Hotel Los Angeles, 506 South Grand Avenue, Los Angeles, California, United States, 90071

Phone:

N/A

Event Type:

Southern California

Ticket Price:

99 - 170.00

Website:

http://www.lapodfest.com/