CA State Fair & Food Expo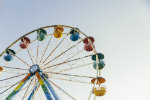 CA State Fair Food Festival 2019
Eat your way through the 2019 CA State Fair with the BRAND NEW Food Festival Pass! Pick 4 items from over 30 different offerings: mouth-watering appetizers, one-of-a-kind entrees, and to-die-for desserts, all for only $28!
Thirty food vendors will have a special Food Festival item for you to eat by yourself or share! There's something delicious for every palate. From savory - like the Grizzly Mac Attack (mac-n-cheese topped with sweet bbq pulled pork and coleslaw), to sweet - the bacon and pecan cinnamon roll, to fried - A fried banana hot dog, and even something for vegans - a Vegan Philly Cheesesteak…are you Frik'n Vegan kidding me!
Here's how it works:
Buy your Food Festival Pass here for only $28 (a $40 value!). You will receive 4 Food Festival Pass tickets to be redeemed at any of the 30 participating vendors for items that have been entered in the Food Festival and Competition. One ticket is good for one Food Festival item, each valued at $10.
Food Festival Pass tickets are transferable and may be used any day of the CA State Fair, July 12th - 28th. Download the CA State Fair app and map out your eating adventure!
Join us, July 13th at 6 pm on the Coca Cola Promenade Stage to watch ABC10's Mark S. Allen host the 2019 CA State Fair Food Festival competition awards! Find out which items will be awarded Gold, Silver and Bronze ribbons, as well as an overall Best of Show in categories such as side, dessert, fruity, fried and entrée!
Food Festival Passes may be purchased online, at the Box Office, and at the State Fair Souvenir Shops during the CA State Fair July 12th - July 28th.
Start:

July 12, 2019

End:

July 28, 2019

Where:

Cal Expo, 1600 Exposition Blvd, Sacramento, CA, United States, 95814

Phone:

N/A

Event Type:

Festivals & Fairs

Ticket Price:

N/A