UCSF Orthopedics Conference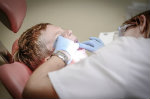 Our mission is to create an alliance of innovators and health care leaders to implement real soultions in musculoskeletal care. Today.
Our goal is to bring orthopaedic care into the future through digital technology.
Orthopaedics is the science of the treatment of the muculosketletal system. Its goal is to preserve motion and function. The UCSF Digital Orthopaedic Conference San Francisco (DOCSF) was conceived out of a strong desire to deliver to patients what they are demanding: digitally-enabled health care.
Why focus on orthopaedics? For many reasons. Orthopaedics is high-volume. It is high-cost. It is a low-variation specialty with its short-cycle time. Moreover, orthopaedics addresses problems that account for more than 30 percent of all primary care visits. For all of these reasons, orthopaedics is the perfect space for anyone testing new solutions to most common problems in health care: improving access, quality and cost.
DOCSF will serve as a venue for visionary leaders to rapidly advance technological development in orthopaedics - in doing so, creating a new model in health care delivery.
The conference will also examine the challenges of implementing technology to current healthcare platforms - without special effort on the part of the patient. We will also look at how technology will enable us to better engage and communicate - using doctor-to-patient apps and telemedicine.
Start:

January 07, 2018

End:

January 07, 2018

Where:

InterContinental San Francisco, 888 Howard Street, San Francisco, California, United States, 94103

Phone:

N/A

Event Type:

Northern California

Ticket Price:

650 - 850.00

Website:

http://docsf.ucsf.edu/