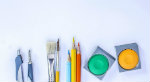 EXHIBITS // ELECTRIC ABSTRACTIONS
APR 20 - JUN 10
OVERVIEW // Electric Abstractions focuses on three California artists using computer technology to create contemporary fine art. Daniel Leighton, Robert Chapman, and Jayne Behman have been creating images digitally for years—drawing with digits and painting with pixels. Jayne Behman and Robert Chapman both have had formal training and years of experience and backgrounds in traditional studio art. Their forays into digital art started after they had already established themselves as artists.

Daniel Leighton came to digital art already well-versed in programming computer apps and making moving pictures when he decided to create computer art. "For SLOMA, this is an opportunity to embrace new media, celebrate three artistic talents with visually compelling artwork, and present an exhibition that also appeals to younger audiences," said Ruta Saliklis, SLOMA curator. Daniel Leighton's digital art can be transported by the viewer from a static image into a moving art piece using apps on an iPhone or iPad, making for a more participatory and personalized experience.

Robert Chapman's artwork starts with under drawings associated in technique to abstract expressionism. Triggered by the subconscious, he proceeds by adding layers to define objective realistic art with that of the objectivity found in the observable nature of reality.

Jayne Behman embraces the iPad as her canvas and uses computer apps to provide her drawing and painting tools. Her images reflect her inner child that deals with adult challenges.

Related Programming
Saturday, April 21 at 2 PM: Panel discussion with the three artists of Electric Abstractions.

Sunday, June 10 at 5 PM: Concert with pianist John Nelson with multimedia video and light presentation to compliment Electric Abstractions. $20 general seating.


DETAILS // A public reception with the artist will take place on Friday, May 4 from 6-9 PM in conjunction with Art After Dark. Members-only preview 5 to 6 PM.
Start:

April 20, 2018

End:

June 10, 2018

Where:

San Luis Obispo Museum of Art, 1010 Broad Street, San Luis Obispo, California, United States, 93401

Phone:

N/A

Event Type:

Arts & Theater, Northern California

Ticket Price:

N/A