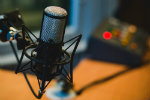 What is Podcast Movement?
In August 2017, over 2,000 active and aspiring podcasters, as well as industry representatives and professionals, will converge on the Anaheim Marriott in beautiful Anaheim, CA for two and a half packed days and nights at the fourth annual Podcast Movement. We want you there. Podcast Movement 2017 will be THE gathering for anyone interested in or involved with podcasting.
---
Who is Podcast Movement for?
We've formatted PM17 to cater to anyone who is currently involved with, or looking to get into, podcasting and the podcast industry. With the help of over 100 speakers from the best podcasts and the most successful podcast networks and companies, taking part in over 80 different sessions, we try our best to have all our podcasting bases covered.
Aspiring Podcasters
We're excited to feature sessions specifically focused on getting you started the RIGHT way. From basic technical sessions regarding equipment, software and editing, to masters teaching you the best way to craft a story or conduct an interview, PM17 is for you.
Industry Professionals
The Podcast Movement evolution will be most apparent on our industry track. This year we are excited to feature a large selection of sessions and panels geared towards "behind the scenes teams" and industry professionals. The most successful networks, statistic providers, ad sellers and buyers, and everything in between will be sharing what has been working (and what hasn't) in the past year, and what they are doing for the future. We've put a lot of focus on this, and it's going to rock!
Exhibition Hall
This year's hall will feature over 80 podcast specific software, hardware and technology companies that will be applicable to everyone at the event. If they are relevant in the space, you'll most likely find them here all week!
---
What can you expect?
Attendees will have the opportunity to participate in their choice of over 80 breakout sessions and panels, including sessions on the Technical Track, Creators Track, Business Track, Industry Track, and more!
Start:

August 23, 2017

End:

August 25, 2017

Where:

Anaheim Marriott, 700 W. Convention Way, Anaheim, California, United States, 92802

Phone:

N/A

Event Type:

Southern California

Ticket Price:

279 - 534.00

Website:

http://podcastmovement.com/