Women's Leadership Conference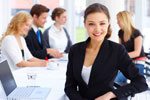 A little history about the Women's Leadership Conference
Since 2010 the County of Los Angeles has hosted the Women's Leadership Conference developed to inspire leadership in us all. History has taught us that the most amazing changes have come about by ordinary people courageous enough to claim the challenge of leadership. We believe that ordinary people can do extraordinary things. And we are convinced that one person with a passion can change the world!
Beginning in 2015, we are proud to partner with the entire County family to continue the legacy of featuring inspirational speakers, interactive break-out sessions, book signings, meet-and-greet sessions, and exhibit booths.
The success of our conferences so far reinforces what we have known all along - that many of us, at some point along the way, will be faced with a cause dear to your heart that will compel you to ignite change. Our goal is to inspire you to embrace leadership along your journey.
Start:

November 02, 2017

End:

November 02, 2017

Where:

Pasadena Convention Center, 300 East Green Street, Pasadena, California, United States, 91101

Phone:

N/A

Event Type:

Southern California

Ticket Price:

75 - 75.00