World Virtual & Augmented Reality Sports Innovation Summit 2017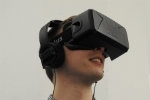 Across two days the World Virtual & Augmented Reality Sports Innovation Summit 2017 brings together the leaders from across the entire sports ecosystem.

Working with the leading sports clubs, rights holders, broadcasters and technology powerhouses the summit is designed to break down and identify the greatest challenges and opportunities for immersive technology within elite sport - Fan Engagement, Elite Performance, Global Brand Development, User Experience, E-Gaming - Commercial Partnerships. Critically though, it goes to the heart of monetization strategies to realize the huge market potential for Immersive Technology in Sport.
Why Now?
2017 is shaping up to be the breakthrough year for Immersive Technology and Sport. With a market potential in excess of $100Billion, the opportunities for growth are enormous.

From live VR broadcasts and fan engagement experiences to VR training, billions of fans and athletes across the world will engage with immersive sports content. Despite much impressive early innovation there is still a paucity of content for the regular sports fan to consume. This is in large part due to the technical challenges and costs sports organisations face in generating VR content and experiences and the barriers consumers still face in accessing VR. The key question facing the sports industry is understanding which immersive technologies will come out on top, and then identifying what the most effective strategies to implement and monetize them may be.

The Summit brings together the senior stakeholders from the biggest clubs, associations, athletes, broadcasters and brands alongside the leaders in technology, innovation and big data to identify how to activate, apply and monetise immersive tech in the sports arena.
Start:

November 15, 2017

End:

November 16, 2017

Where:

Holiday Inn San Francisco Golden Gateway, 1500 Van Ness Avenue, San Francisco, California, United States, 94109

Phone:

N/A

Event Type:

Northern California

Ticket Price:

399 - 679.00